CUHK x HKTB Youth Academy @West Kowloon Neighbourhood: Join us to Showcase Hong Kong to the World!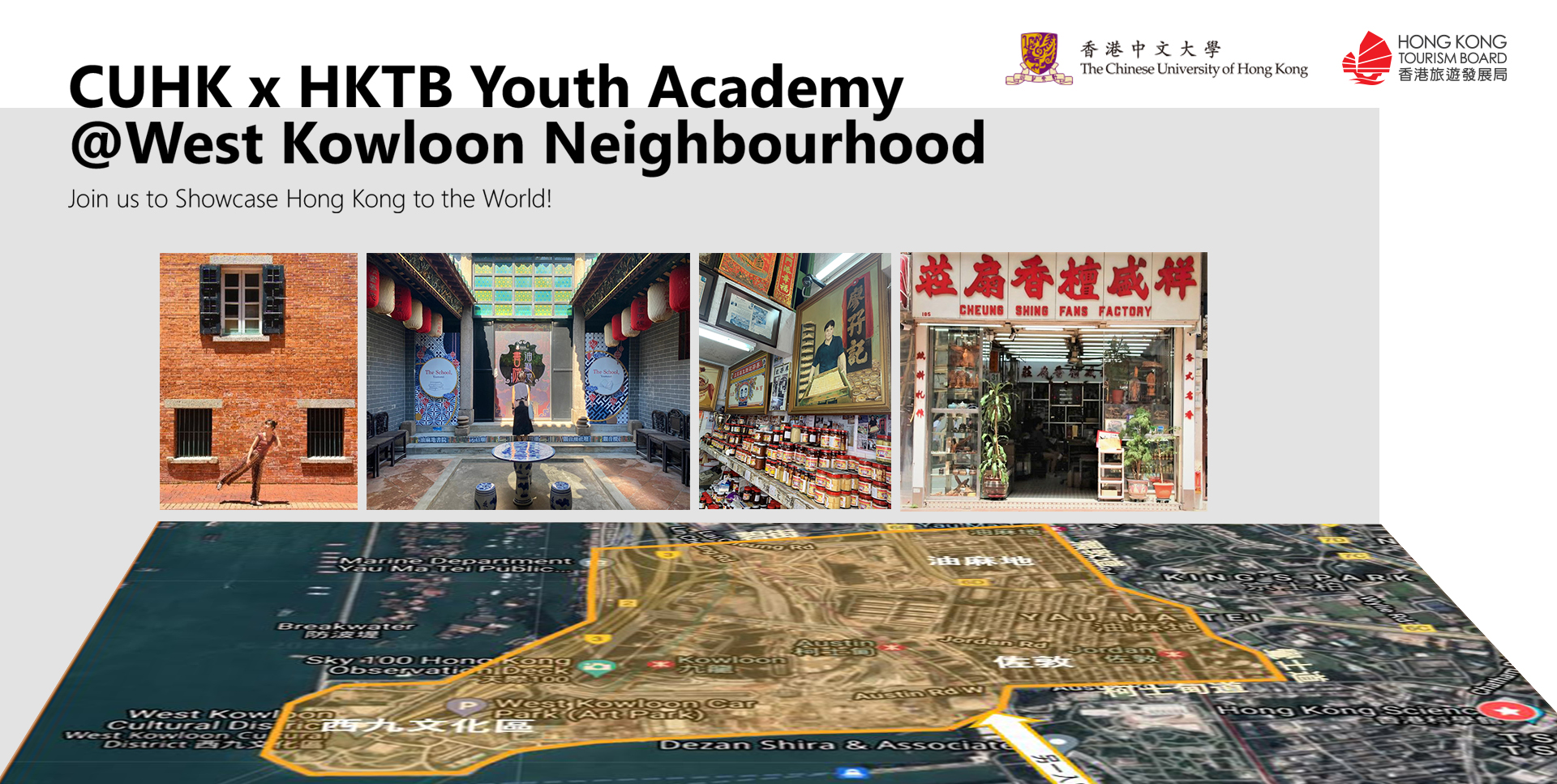 CUHK and the Hong Kong Tourism Board (HKTB) are joining hands again to present the second edition of the CUHK x HKTB Youth Academy during October – November 2021. This will be an invaluable opportunity for you to develop your capacities in creativity, teamwork, and leadership, as well as to achieve a comprehensive understanding of tourism in Hong Kong.
The first CUHK x HKTB Youth Academy was held this summer, in which CUHK student ambassadors of the Academy had conceptualized, planned, and ran two virtual guided tours, one of Tsim Sha Tsui and one of Tai Po, to an international audience. At the upcoming Academy, the ambassadors will, under the guidance of a team of veteran mentors, learn essential skills in storytelling, research and presentation through a series of training sessions. Ambassadors will work together in teams to showcase Hong Kong as Asia's hub of arts and culture by curating an in-person guided tour of the West Kowloon Neighbourhood, bringing its participants to four interesting sites in the area.
Details of the training sessions are as follows:
Date
Time
Details
10 Oct (Sun)
1000-1100
Introduction of the Academy (virtual, online)
17 Oct (Sun)
1430-1730
On-site training at places to be toured
30 Oct (Sat)
1230-1500
On-site training (Bonus Tour)

1) Minority community in Jordan

2) Tung Nam Lou Art Hotel 東南樓 (with workshop)
The tour itself will run four times on four different dates. There will be four groups of ambassadors, each with four members, and each group will lead one of the tours. Around 15 exchange students currently studying at CUHK will be invited to each tour.
Date
Time
Participants
Places to be visited in Each Tour
3 Nov (Wed)
1400-1700
4 ambassadors on site conducting the tour + 15 tour participants (exchange students studying at CUHK)
1) Liu Ma Kee廖孖記

2) Cheung Shing Fans Factory詳盛檀香扇莊

3) The School, YMT油麻地書院

4) The Red Brick House 紅磚屋

10 Nov (Wed)
1400-1700
17 Nov (Wed)
1400-1700
24 Nov (Wed)
1400-1700
If you identify yourself as an outgoing, creative, and presentable individual who possess a strong team spirit and is proficient in English, you are invited to apply through a webform before 30 September 2021. Before applying, please make sure you will be able to join all the training sessions, and are free on at least one of the tour dates. As a token of appreciation, all ambassadors who have successfully completed the Academy (joining all the required sessions) will receive a completion certificate and a subsidy of $300 based on the CUHK student helper rate.
If you submit your application before 20 September and are selected, you will have the opportunity to join an exclusive VIP preview of the FriendsWithYou art installation at the West Kowloon Cultural District Art Park on 23 September. Please refer to the attached for more information.
If you have any questions, please feel free to email heidio@cuhk.edu.hk. Don't miss out this golden opportunity to develop yourself and show it to the world!
Liu Ma Kee Fermented Tofu Store 廖孖記
Founded in 1905, Liu Ma Kee has been producing their family recipe of preserved bean curd for more than a century. The handmade condiment is more versatile than we think, thanks to the creativity of the Liu family – which is also known for their musical talent, such as that of fourth-generation owner and flutist Jay Liu. They think out-of-the-box and suggest adding this "Chinese cheese" to perk up a carbonara sauce, bake into a cheesecake or even spread on a crispy toast!
Cheung Shing Fans Factory 祥盛檀香扇莊
Cheung Shing has been selling sandalwood and agarwood products on Shanghai Street since 1958. Once a status symbol for the well-heeled, sandalwood fans are increasingly rare to find due to scarcity of the natural plant and artisans. Alternatively, the shop also produces its own incense sticks and powder, which adds a meditative touch to any home when paired with burners that come in various designs and materials.
The School in Tin Hau Temple 天后廟「油麻地書院」
Namesake of the famous Temple Street, Tin Hau Temple on Shanghai Street is the largest temple (circa 1865) dedicated to the Chinese sea goddess in Kowloon. Comprising of five adjacent buildings, the compound served as a place of worship and a free school up until 1955. The school has since then been turned into a fortune-telling parlour, a smithy and a Chinese medicine clinic, before it is recently repurposed to an unmanned bookstore in 2020.
The Red Brick House 紅磚屋
The building with two-storey is built in a colonial Neo-Classical style with Arts and Crafts influence. The most significant feature of the building is the red brick façade.
Being a former pumping station, the architecture of the building is of utilitarian design, which is also a typical example of the British industrial building. The building does not consist of much decoration, there are only some decorative brickwork features and ironwork balustrading.